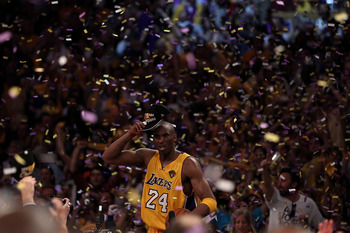 As the Los Angeles Lakers won the NBA Championship for 2010, Kobe Bryant picks up his 5th Championship ring. Members of the media continue their talk about Kobe Bryant being an all-time great, but when they start saying he's better than Michael Jordan, they're dead wrong.
I don't care what happens in the first half of any game in the NBA Finals, because usually it doesn't really matter (unless it's the Lakers getting a blow-out win). I typically turn the game on for the last third of the action, and what have I seen this series?
Kobe Bryant missing shots.
Even when he has a high scoring game, Kobe Bryant doesn't have the great clutch game that Michael Jordan did.
Michael Jordan never had a dominant player like Shaq to help him get any of his six rings. Sure, he had Scotty Pippen, but don't tell me that Pippen has the same kind of affect on a game that Shaq did. Not even close.
Has Kobe won without Shaq? Absolutely, but plenty of players have multiple rings without having a guy like Shaq on their team, and they aren't talked about in a discussion of whom is considered the best NBA player of all time.
I wouldn't have been surprised if Ron Artest had been given the MVP for this year's playoffs.
Sure, Kobe Bryant was the leading scorer in most of the games, but who had the most impact on the series? I'd say you could make a compelling argument for Ron Artest due mostly to his defensive play.
Yeah, they could've won without Ron Artest, but it would've been a lot more difficult.
Another huge factor for the Lakers this post season was Pau Gasol, who almost looked like a completely different player than in previous post-season series.
In fact, if you look at his fourth quarter numbers and look at the number of shots he took, you might even be able to make a compelling argument that Pau Gasol deserved the MVP more than Kobe or Artest.
Michael Jordan never went to Game 7 in the NBA Finals. Never needed to. He always took care of business. Always.
Kobe? His resume has an appearance in the NBA Finals where he didn't end up with a ring. Michael Jordan knows nothing of that sort of defeat.
Michael Jordan had more will to win in the regular season than Kobe ever did.
1995-96 – the Chicago Bulls won 72
1996-97 – the Bulls followed up the awesome season with 69 wins
1991-92 – the Chicago Bulls hit 67 wins
1997-98 – the Bulls won 62 games
1999-00 – the Lakers won 67 games, but that was Shaq's team, and Kobe was just starting to emerge as a good player. Kobe was a 2nd stringer on the All NBA team that year.
2008-2009 – the Lakers won 65 games
That's it. The Lakers with Kobe Bryant never won more than 60 in a season other than those two times. For failures, I point to 2004/05, 2005/06, and 2006/07.
This year? Only 57 wins. Sure, that's a lot, but that's not all-time great leadership. Two seasons ago the wins were in the 50's also.