Who Is The Top MMA Heavyweight in the World?
After having held the top spot in the Worldwide MMA Heavyweight rankings for years, Fedor Emelianenko loss to Fabricio Werdum last Saturday leads to the debate over who deserves the top spot.
Is it still Fedor?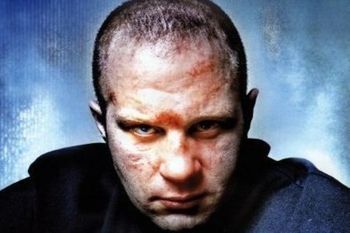 He's still has a better record over the past seven years than the other fighters who will receive recognition. But what noteworthy opponents has Fedor beaten during that time?
His only loss ever is to Werdum—a top 10 ranked Heavyweight.
Take a look at who he has defeated.
Brett Rogers—a top 10 guy at the time coming off of a win over Andrei "the Pitbull" Arlovski—a former top contender.
Tim Sylvia—arguably past his prime at the time, though a former UFC Champion.
Hong-Man Choi—a towering competitor posing new challenges.
In addition to these elite fighters, he also defeated Mark Coleman and Mirko "Cro Cop" Filipovic, and Minotauro Nogueira.
With those wins to his credit, Fedor shouldn't be dropped out of the top spot.
The following slides give the GuysNation.com perspective on the rest of the Heavyweights and their case to overtake Fedor Emelianenko in the top spot.
**adsense_4block**
Fabricio Werdum
Yes, he beat Fedor, and that begs the question: Does he BECOME "The Man" after defeating "The Man"?
I don't think so. The No. 1 Heavyweight in the world ranking isn't a championship to be won. If that were the case, it would belong to a company until the previous guy retired.
Werdum lost to Junior dos Santos back in October of 2008, and since then, he has beaten Antonio Silva and Mike Kyle, neither of whom are Top 10 guys.
So his win over Fedor certainly boosts his ranking, but he's definitely not the top guy.
Junior dos Santos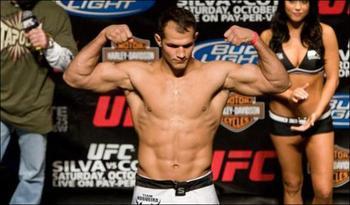 Yep, he's got a win over Fabricio Werdum (in 2008), but I maintain that Junior dos Santos needs better opponents to give him some credibility.
2010 wins over Gonzaga and Yvel? That's nice.
2009 wins over Cro Cop and Stefan Struve? Eh, pretty decent.
The lack of a championship fight or even a high profile opponent shows me that UFC realizes this guy isn't ready yet.
His next fight needs to be against Frank Mir.
Frank Mir
The top spot cannot go to Frank Mir because of losses in the past year to Brock Lesnar and recently to current Interim Champ Shane Carwin.
Those wins over Cheick Kongo and Minotauro Nogueira aren't going to help him get to the top spot, and the win over Brock Lesnar a couple years back means very little at this point, given that Lesnar avenged it at UFC 100.
Alistair Overeem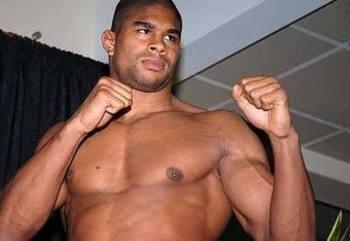 Current Strikeforce Heavyweight Champion Alistair Overeem makes a very valid case for the No. 1 spot.
He's fresh off of a victory over Brett Rogers back in May where he defended the Strikeforce Heavyweight strap, but prior to that, his last noteworthy fight was against Gary Goodridge back in 2008.
He also has a loss to Fabricio Werdum, but that was in 2006—which I also believe was at light heavyweight—and another loss to Sergei Kharitonov in 2007.
If he can defeat Fabricio Werdum, I might be inclined to give him the top spot, but it's going to seriously depend on what happens in that fight.
Cain Velasquez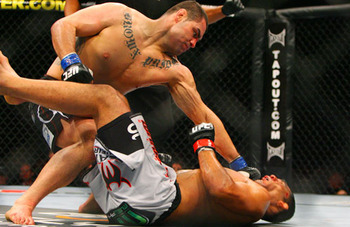 In the past 14 months, Cain Velasquez has beaten some big names:
Minotauro Nogueira, who had previously shown to be hard to knock out (when he wasn't sick leading up to a fight)
Ben Rothwell and
Cheick Kongo.
He makes a strong case, but I think others might make a stronger one.
They are "The Champs".
As if you couldn't guess.
Brock Lesnar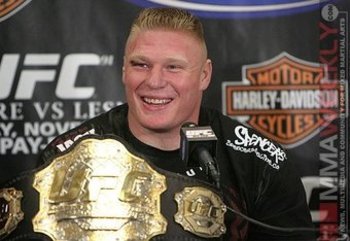 Since coming onto the MMA scene, Brock Lesnar has done well for himself.
He struggled in his first big fight against Frank Mir in 2008, when he let himself get caught in a submission. Lesnar would later avenge that win though.
He beat Heath Herring by decision.
He beat Randy Couture to become UFC Heavyweight Champion.
The problem is, his last fight was 51 weeks ago where he unified the UFC Heavyweight belts by demolishing Frank Mir. He's lost the heat that would've easily put him in the No. 1 spot.
Shane Carwin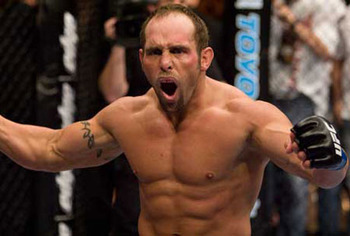 Sure, the guy is 12-0 with all of his victories coming in the first round.
However, who has he beaten?
Only Frank Mir and Gabriel Gonzaga.
That résumé—even if it does include the Interim UFC Heavyweight Championship—is NOT enough for me to say he passes Fedor into the top spot.
It's going to take at least a little more…
UFC 116 Winner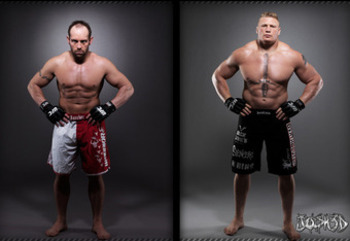 Whoever is victorious at UFC 116 in the main event with the Heavyweight Title on the line IS the top Heavyweight MMA fighter in the world.
It would give Shane Carwin enough credibility, with a 13-0 record, to take the top spot. Victories over Mir, Gonzaga, and then Lesnar would be a huge addition to his résumé.
For Brock Lesnar, a successful title defense here would show that he's capable of shutting down a young Turk who many believe to be his equal. He's already shown that he can beat a savvy veteran legend in Randy Couture, and he can learn from his loss against a highly skilled competitor who knows a ton about MMA in Frank Mir.
Regardless of who wins this battle, Cain Velasquez should be next in line for a title shot. If Cain Velasquez wins that fight, the top of the MMA Heavyweight rankings will be shaken again, especially if Alistair Overeem can win his next fight (assuming its against either Fedor or Werdum). We'll look at those scenarios sometime a month from now when we see who the follow-up fights are going to be.
– – –
If we get more than 5 people commenting on this article, I'll give away a free tshirt.
If we hit 10 people commenting, I'll give away two.