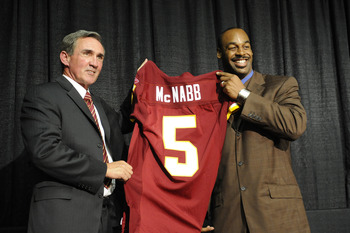 No matter what team you wish to consider, there are quite a few questions facing each NFL franchise going into each new season.
Players get older, draft picks are made, coaching staffs change, players come and go in free agency, and injuries – nagging and healed – all affect what the fortunes of a team might be.
The Washington Redskins are often considered the most exciting team to watch in the off-season, and the first half of 2010 has proven no different.
In the slides which follow, I examine the top questions facing the Washington Redskins as they approach the 2010/2011 season.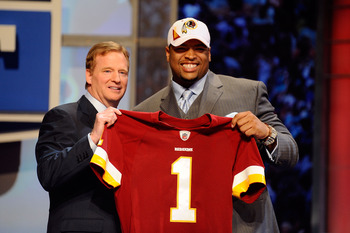 The Offensive Line – Problems Rectified?
Most Washington Redskins fans will say that a large part of the problem in last year's 4-12 disappointment was the offensive line. Chris Samuels retired, Trent Williams was drafted and with the arrival of several free agents, the starting 5 might look quite different than at any point last year.
If there's one thing that can be said about Mike Shanahan's Denver Broncos teams, it's that they had great productivity due to their offensive lines.
If anyone had to take over for Joe Bugel in trying to get the best out of guards, tackles and a center, I'm confident that Mike Shanahan has the knowledge to make it happen. If Trent Williams proves to be a bust – which I don't expect to be the case – it won't matter much. If my hopes and expectations hold true, the offensive line could be sufficient this year and only get better in future seasons.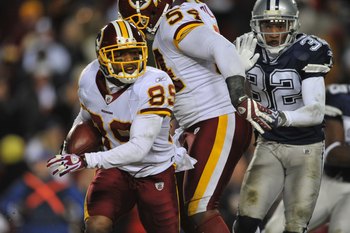 Santana Moss has been called the one true Play Maker on the Washington Redskins, capable of exploding into the game to make a huge impact with a touchdown.
As he gets older, some doubt whether Santana's career has turned a corner.
With the young wide receivers on the team trying to make their mark and other veterans trying to earn a spot, the pressure is on Santana Moss to return to a Pro Bowl worthy competitor, but is he capable of that, or are those years behind him?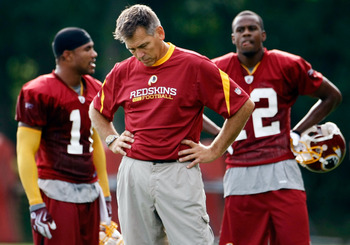 The two young second-round draft picks Devin Thomas and Malcolm Kelly got off to a (very) slow start during their NFL tenures, and now it's time that they stepped it up and proved what they're capable of doing.
They've individually shown flashes of talent, but that's not going to cut it.
Will either of them stay injury-free?
Will they finally find their way into the end zone and have more than just a couple dozen catches each this season? They'll need to if they want to avoid being considered busts.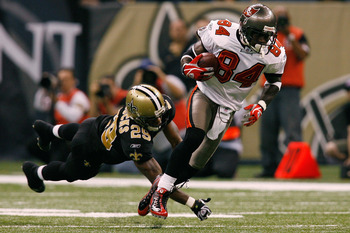 The new management team brought in some veteran Wide Receivers with over a couple dozen years of NFL experience among them. Fifteen year veteran Joey Galloway has proven himself to be a high caliber player with the various teams he has been a part of, but what does he have left in the tank?
Bobby Wade has never been a star, but could he take away a roster spot from one of the younger Wide Receivers on the team?
Mike Furrey might not be a name you recognize, but fantasy football owners in very deep leagues will be glad to tell you that he has been productive in Detroit and Cleveland, amassing over 1000 yards and nearly 100 receptions for the Lions just a few seasons ago. He's got a great shot to make the team, especially when you consider his versatility – which allowed the Browns to play him at safety and nickel cornerback last year when injuries depleted their defensive secondary. How far up the depth chart will Furrey make it, or to what degree will he force other wide receivers to step up their game to stay ahead of him?
Injuries kept Roydell Williams from being more of a force in Tennessee the past couple of seasons, but it's hard not to like his potential. Roydell has averaged over 13 yards per reception in each of his three NFL seasons, and now if he's healthy, he could be a dark horse to make an impact as the third or fourth receiver on the depth chart to start the season. Could he push one of the veterans like Galloway or Furrey aside? Will he do better than Devin Thomas or Malcolm Kelly?
It might depend on his ability to play special teams, but at this point in his career, you'd have to think that Roydell Williams will want to do just about anything to get back onto the field.
Arguably the most talented and most popular player the Redskins have on the roster, Chris Cooley went down with an ankle injury last season.
Now the toughest receiving threat Washington has is ready to be back on the field, and the only real question is whether or not Chris Cooley and Donovan McNabb synch up in time for Cooley to get Pro Bowl worthy stats like he has in the past. There's no doubt in my mind that the Offense's game plan is being fitted to get Chris Cooley involved in a major way.
Last season when Chris Cooley was injured, Fred Davis stepped up and compiled some nice statistics from the starting Tight End position, to the point where some people around town were wondering whether Chris Cooley might end up on the trading block.
Obviously you shouldn't trade a guy like Chris Cooley, so Fred Davis returns to his backup role, but his offensive production the latter half of the 2009/2010 season would've projected out to Pro Bowl worthy statistics, so you have to wonder what role Fred Davis will have in the offense this season. A two WR / two TE set could be very frustrating on opposing defenses, especially with the ability for Cooley OR Davis to split out away from the line OR stay back and block.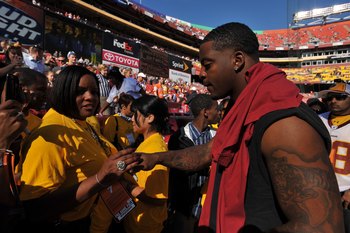 There's no question that during his time here in Washington, Clinton Portis has become very popular amongst Redskins fans with his productivity on the field and huge personality off the field. Some people say that his attitude and personality have gotten too big. With his productivity going down as of late and his former boss Mike Shanahan coming to town, having already traded Clinton Portis once, should Clinton be nervous?
There's also the fact that two (and possibly a third) former Pro Bowl running backs are also now on the Washington Redskins' depth chart, and although Mike Shanahan claims that Clinton Portis is in the top spot as of now, how willing is Portis going to be in sharing the carries (and spotlight)?
Also, Clinton Portis is less than a thousand yards away from being the all-time leading rusher for the Washington Redskins. Is he going to get enough carries to surpass the mark set by John Riggins?
After his departure from Kansas City, Larry Johnson had something to prove – and that's exactly what he did during his stint with the Cincinnati Bengals. Once the top running back in the league, Larry Johnson seems to now understand that he needs to step up his game and dial back on the personal issues if he wants to be considered an elite back once again.
Though he's currently in the backup spot for the Redskins, his former coach in Kansas City Dick Vermeil has said that the way Larry Johnson works out in the weight room and in other off-field activities, he's going to push to supplant Clinton Portis as the starting running back.
Will Larry Johnson be able to put himself into the role as the starter by the beginning of the season?
Will he instead push Clinton Portis to be a Pro Bowl worthy running back again?
How productive of a tandem will these two be?
There was a time when my friends who are Pittsburgh Steelers fans used to love "Fast" Willie Parker, but when his attitude started kicking up and his productivity and speed started decreasing, it was an easy switch for them to make to switch over to being fans of Rashard Mendenhall instead of the former Pro Bowl running back.
Now Willie Parker finds himself third on the depth chart with two options:
– does he find a way to get back into position to get carries?
– does he prove that his days of being a quality running back option in the NFL are over?
Young running backs including Ryan Torian (formerly of the Denver Broncos) are going to give Parker (and his significantly large salary) a run for his money.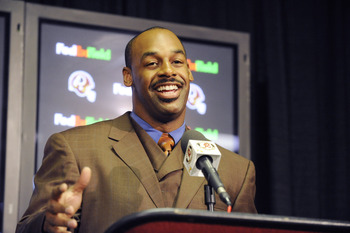 Once a hated rival for the Philadelphia Eagles, now Donovan McNabb is set to be the starting Quarterback for the Washington Redskins, an odd concept to grasp for a large portion of the fanbase.
That weird feeling can (and likely will) be forgotten if Donovan McNabb is productive when he gets onto the field in the Burgundy & Gold – especially if he helps lead the Redskins to a win against the Dallas Cowboys.
The real question involves whether or not McNabb can be healthy enough to play a significant role in rebounding this team from only 4 wins a season ago. In his 11 NFL seasons thus far, he only has 4 complete seasons without an injury… but he does have that many appearances in the NFC Championship game, an achievement which the Redskins themselves have not experienced during that 11 year span.
Another question being asked about McNabb is whether or not he's possibly going to be a Washington Redskin after this season. He got traded here with one year remaining on his contract, and many people thought it odd that Andy Reid would let him leave Philadelphia. If Reid leaves the Eagles after this season, could McNabb follow him elsewhere, playing out the remainder of his career for Reid and then becoming a coach?
If the concerns about McNabb had to be summed up into one word, that would be: LONGEVITY.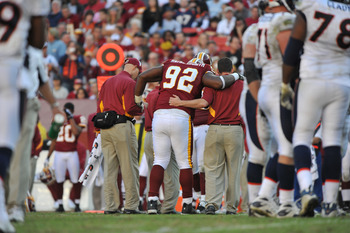 Albert Haynesworth was given the largest contract for a defensive player in the history of the NFL. He was supposed to show up and be dominant, but those who had fears that Big Al (who some call "Fat Albert") was just going to take the money and relax while in Washington are now having their fears realized.
Haynesworth is balking at playing in the 3-4 defense and is making trade requests, hoping to leave the Nation's Capital. In recent statements he's claiming that he will be at Training Camp and intends to play for the Redskins this year if they don't ship him elsewhere, but the majority opinion on those statements is that Haynesworth fears his $21 million dollar signing bonus (and future guaranteed money) is in jeopardy if he doesn't try to play nice.
Will he come back?
He claims to be working with his personal trainer to get in the best shape of his NFL career, but what shape will he be in when he finally does show up?
Will he play nice with the rest of the locker room?
Will the rest of the locker room forgive Albert Haynesworth for not coming to mini-camps / OTA's to figure out this defense?
What can defensive coordinator / former New Orleans head coach Jim Haslett (who captained the Saints ship through the stormy days of Katrina aftermath) do to help pull this defense together and get the most out of the players he's got?
Even if Haynesworth does show up, will he be out-played by quality veterans who have worked hard in mini-camps / OTA's / classroom study and are looking to reclaim a starting spot in the league?
Will the Washington Redskins find a way to trade Albert Haynesworth and get something of value in return?
There are way too many questions surrounding Albert Haynesworth, and while he's a huge part of this team, he's not the biggest question the Washington Redskins face going into the next season.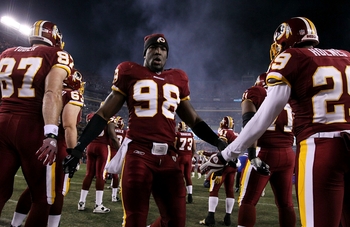 A hugely bright spot from last season was then-rookie Brian Orakpo, who was highly productive on the field.
In the new defensive scheme, Brian Orakpo becomes an outside linebacker and gets the opportunity to rush the quarterback from a stand-up position.
Will he be as productive as his Pro Bowl worthy rookie season?
Will he be seen as the leader of this defense?
How will he do in situations where he has to drop back into some pass coverage, or will Jim Haslett scheme a way to keep that from having to happen?
Will he and London Fletcher make the fans forget about Albert Haynesworth?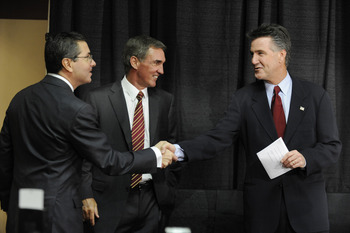 The coaching staff is the biggest factor for the 2010/2011 season for the Washington Redskins.
That is, IF Mike Shanahan has enough left in the tank and the game hasn't passed him by. He has been out of the league and his last seasons in Denver didn't exactly include Super Bowl contention.
The running back situation? Mike Shanahan basically created the concept of running back by committee, and he's been known to take lesser known talents and get them to rush for over 1,000 yards. He will make the most of whichever running back the suit up. Not a problem to him. If the fans want to think about who might have the best season, they can rest assured that Shanahan isn't losing sleep over it.
The Washington Redskins could put together a dominant defense which doesn't include Albert Haynesworth. The lack of salary cap restrictions this year makes it possible to nullify the impact of Haynesworth not being on the field, especially with Jim Haslett at the helm of the defense.
What's going to matter is whether or not Mike Shanahan can reclaim his glory days he had with the Denver Broncos and turn the offensive line into a highly productive unit, manage the quarterback situation with McNabb and the shaky backup situation, pick the best option at wide receiver, make the right calls at the right time during the game, work well with Bruce Allen to keep getting the best players for the systems / schemes they want to run, and minimize the negative impact Daniel Snyder might have while showing the Washington-area fans that they're lucky to have an owner as dedicated as Snyder has proven to be.
Sound like a tough task?
I wouldn't want to be Mike Shanahan. He's got an extremely challenging season ahead of him, and the success of this team rides squarely on his shoulders, which is why the biggest question facing the Washington Redskins is easily targeted at how productive Mike Shanahan can be.
Washington Redskins fans had better hope that they've got a revitalized Shanahan instead of a washed-up version. Time will tell, though I'd let the jury be out until at least week 14 to make any serious judgments. Hindsight is 20/20, but in-the-now vision is often skewed.