With the NBA Draft approaching on Thursday, I got to thinking Friday about what players are going to be busts, who will be under the radar to be a steal and who is not known and will be a diamond in the rough.  Then, I got to thinking about the biggest busts, steals & diamonds in the rough over the last few years.  So, I took the last 20 draft classes, created a criteria, and ranked the top 20 in each category. 
Here's how I broke down the "Steals": (A) take the last 10 picks in the first round and the first 10 in the second round, (B) the output of their careers or careers to this point, (C) the potential/physical ability they possessed and (D) the success the person has had in their career.  Ladies & Gentlemen, here are the "Steals":
20.   "With the 22nd pick in the 2011 NBA Draft, the Denver Nuggets select…Kenneth Faried"
        -I know what you're thinking…this guy has played one year, put up decent numbers & wasn't a superstar in his rookie season.  To that I say, you're right.  What you have to understand is I follow basketball like young teenagers follow Justin Bieber.  What I know about Faried is that this kid is a game changer…yes, a game changer.  Dennis Rodman wasn't a scoring machine, but he changed the game by rebounding anything in the vicinity (case in point, Carmen Electra).  Another thing, Morehead St hadn't had a team to really talk about in over a decade til this kid came around.  He may not look like much, but he can change a game with his desire to get anything coming off the rim.  If he improves his offensive game, then that will make him even better and to me, that's enough to make him a steal.  He averaged 10.2 pts, 7.7 reb & 0.8 ast his rookie year while making the NBA All-Rookie 1st team and averaged a double-double in this year's playoffs.  Not bad if you ask me.  If he only brings that for the next ten years, I don't think people will be wondering what I, or Denver , was thinking. 
19.  "With the 31st pick in the 2007 NBA Draft, the Seattle Supersonics select…Carl Landry"
        -I slightly remember him in college at Purdue.  He was another double-double guy like Faried, and never thought much of him.  But he has come a long way and is turning into a very good PF in the League.  Making the NBA All-Rookie 2nd team and his playoff output his rookie year was the start of his coming out party and he has only progressed since then.  Averaging 12.1 pts, 5.1 reb & 0.7 ast in his time in the league is pretty good for the first pick of the second round.  I don't think he's going to lead a team, but I do think he's going to be a good garbage man for a team that has scorers in the backcourt.  There's not too many guys like that available that late in the draft.
18.  "With the 26th pick in the 2007 NBA Draft, the Houston Rockets select…Aaron Brooks"
        -When I saw this kid tearing up defenses out West in college wearing an Oregon Duck uni, I thought, "This kid could end up being a lottery pick."  He tore up UNC in the '07 NCAA Tournament and drew some attention, but his stock dropped in Pre-Draft camps & combines.  Houston was ecstatic that they got him & for good reason.  When Houston squared off with the high-caliber LA Lakers in the '08 Playoffs, Brooks moved around the court like a waterbug opening up the court for Ron Artest to have the brightest moment of his rollercoaster career.  He also showed his scoring ability, which is what he hadn't been able to show yet.  So far, his career has proved that he scores 12.5 pts and 3.6 ast and became the NBA's Most Improved Player.  Playing behind Steve Nash in Phoenix this year, and with Nash probably moving on, Brooks will have his chance once again to shine…and I think he will.
17.  "With the 24th pick in the 1999 NBA Draft, the Utah Jazz select…Andrei Kirilenko"
        -AK47…oh, how good you looked when you came into the League.  Straight from the Kremlin, he made us believe that white men could jump.  He earned NBA All-Rookie 1st team and was a #1 scoring option.  In his time, he has been an outstanding defensive player earning NBA All-Defensive 1st team once & 2nd team twice.  He was an All-Star in '04, but his offensive production has dropped over the years.  He currently ranks 40th all-time in blocks.  Even though he might not have been able to keep his offensive production up, he's still a steal defensively at #24.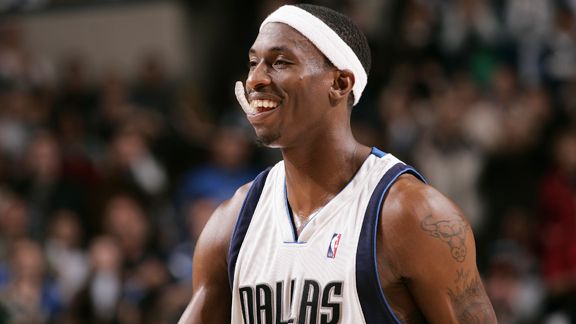 16.  "With the 29th pick in the 2003 NBA Draft, the Dallas Mavericks select…Josh Howard"
        -I don't know how the ACC Player of the Year could possibly drop this low…except for the fact that this was probably the deepest draft class in history.  Dallas came away with an absolute steal with Howard.  He gave Dallas a good lanky defender & another scoring option to put alongside Dirk.  Howard earned NBA All-Rookie 2nd Team & an All-Star bid in '07.  He has averaged 14.5 pts, 5.7 reb & 1.6 ast in the regular season, but steps it up in the Playoffs averaging more in those categories.  He played in Washington last year, but look for him to join with a contender, becoming the second or third option, and make an impact.
15.  "With the 23rd pick in the 2002 NBA Draft, the Detroit Pistons select…Tayshaun Prince"
        -It was hard to choose between Prince & Howard in this spot.  What put Prince over Howard was how many game/series changing moments this guy has had.  Being drafted out of Kentucky , Prince was looked at as too light to play PF & teams didn't want to take a chance on him playing the wing.  Detroit did & they got a long, lanky defender who could change the game with his defense & hit the 3.  He's averaged 12.9 pts, 4.7 reb & 2.7 ast, while making the NBA All-Defensive 2nd team four times.  In fact, if it wasn't for his Don Beebe-like run after Reggie Miller to block his wide-open lay-up, the Pistons might not have won that series or the NBA Finals over the Lakers.  Epic defensive play coming from a wing that many teams didn't want…I bet they do now.
14.  "With the 25th pick in the 2001 NBA Draft, the Sacramento Kings select…Gerald Wallace"
        -Coming from a guy with a coaching background, I LOVE this guy's game!  He's not a superstar, but he does the little things well.  He can score, he rebounds well, he can block shots, he's a stealing machine, he's got crazy athleticism & he's not a drama queen.  He has worn a few different uniforms in his career, but every team he plays for is a better team for having him.  He's athletic enough to play the 3, but is capable enough to play that stretch 4 role.  Averaging 13.5 pts, 6.3 reb & 2.1 ast, he has been on the NBA All-Defensive 1st team once, been an All-Star ('10) and been in the top 5 in steals three different years.  Take your high drama, big time scorer on the wing, I'll take my boy Gerald.
13.  "With the 26th pick in the 2004 NBA Draft, the Sacramento Kings select…Kevin Martin"
        -I had never heard anything about this guy in college, but burst onto the NBA scene scoring in gobs.  He has an unorthodox shooting style, but can net it from all over the floor averaging 18.4 pts, 3.5 reb & 2.1 ast.  I don't know how this guy wasn't recruited to any bigger schools than Eastern Carolina , but I'm sure some of those ACC schools were slapping some of their scouts for not finding him earlier.  Martin is one of the best scorers that no one talks about because he's never been on a high-profile team.  He currently ranks 27th in career free throw percentage & 100th in career 3 pt shooting percentage.  With his skills, he'll continue to move up the rankings as his career winds on.
12.  "With the 30th pick in the 2005 NBA Draft, the New York Knicks select…David Lee"
        -Hailing from the great state of Missouri & attending Florida , David Lee had a good career playing for Coach Donovan.  After bulking up Barry Bonds style after his sophomore year, Lee had a down Junior year.  He leaned down, had a solid senior year & was looked at as a flop going into the draft.  This is one pick Isiah Thomas didn't screw up.  The one time All-Star & perpetual double-double had a slow start, then kicked down the door and has put up 14.3 pts, 9.6 reb & 2.2 ast in nearly 500 games.  When healthy, this guy is one of the best garbage men in the NBA.  The League said, "Sho-Me what you got," and Lee has.
        -Coming straight out of high school, this long, lanky kid wasn't going to be a post player.  He was going to be a gamble…that gamble turned into one of the best outside shooting threats in the league for the last 10+ years.  This two time All-Star has one of the sweetest strokes and that stroke has him ranked #8 all-time in 3 pt shots made.  Lewis has averaged 16.1 pts, 5.6 reb & 1.8 ast in his career with one Finals appearance.  He has been unheard of since going to Washington, but if the right team picks him up this off-season, look for him to bloom again.
10.  "With the 24th pick in the 1993 NBA Draft, the Houston Rockets select…Sam Cassell" 
        -Making a name for himself at Florida St, Cassell wasn't the most attractive looking person & didn't have the most attractive looking game.  Cassell never made the highlight reels with an athletic play or a gorgeous pass, but he played smart & was very effecient, which is what eventual two-time NBA Champion Houston was looking for in a PG.  He was an All-Star in '04, the same year he made the All-NBA 2nd team.  He was a three-time champ and finished his career averaging 15.7 pts, 3.2 reb & 6 ast.  For a player that wasn't flashy, Cassell can flash 3 rings and a ten spot on our list.
9.  "With the 24th pick in the 1996 NBA Draft, the Los Angeles Lakers select…Derek Fisher"
        -Speaking of players that aren't flashy, we come to "Fish."  Some may think he deserves to be lower because his numbers don't look as good as some of the guys ranked behind him…some may think he deserves to be higher because of his five rings, but I put him here because when a big shot was needed, Fish could step up & drain it (just ask San Antonio about that).  He averaged 8.6 pts, 2.1 reb & 3.1 ast in his 1200 games.  He also ranks 68th in career steals & 48th in 3 pt shots made.  The "voice of reason" in the LA locker room, Kobe was heart-broken when Fisher was traded away.  He was Kobe 's security blanket and closest friend…not to mention the voice of the Player's Union.  He was close to getting his sixth ring this year with OKC, but fell just short.Had he been taken later, he might have been ranked higher.
8.  "With the 19th pick in the 2001 NBA Draft, the Portland Trailblazers select…Zach Randolph"
        -After being taught how to play the game the right way from Coach Izzo at Michigan St , Randolph was drafted by Portland who had more bad attitudes on the team than a South Central Juvy Hall.  In spite of all the attitude problems, Randolph displayed early in his career, he was a double-double threat every game.  He received the NBA's Most Improved Player Award in '04, but still struggled with disciplinary problems.  His career transformed when he was traded to the down & out Memphis Grizzlies.  Since then, Memphis has become a contender in the West and
"Zebo" has become an All-Star & a member of the All-NBA 3rd team.  He has been in the top 10 in rebounds 3 times and averages 17.3 pts, 9.1 reb & 1.7 ast.  Because he was barely a "steal", he doesn't rank higher.  Because he has accomplished what he has with an old-school game & a three in. vertical, he lands in the top 10.  He should keep it going and be well on his way to having a stellar career.
7.  "With the 34th pick in the 2002 NBA Draft, the Cleveland Cavaliers select…Carlos Boozer"
        -I said this guy would never amount to anything in the NBA.  He was undersized & slow…I've been wrong before & that won't be the last.  The two time All-Star is this high because of how low he was selected, how little talent he seemed to have and because of the shock factor that he has done as well as he has.  I figured he was going to be another Duke big-man dud like Laettner & Parks…I think some NBA execs did too.  I bet they wished they had a chance to get him now…well, maybe not NOW.  After playing well and being All-NBA 3rd team, he has had a couple down years in Chicago, but played well in Cleveland (with Lebron) and Utah (with DWill).  Having averaged 17 pts, 9.9 reb & 2.4 ast in the regular season, he played better in the playoffs averaging a double-double.  Not too bad for a guy that was stereotyped a "bust" before he was ever drafted.
6.  "With the 21st pick in the 1995 NBA Draft, the Phoenix Suns select…Michael Finley"
        -After having a great career in Madison, Finley went from the cold weather of Wisconsin to the hot dry weather of Phoenix .  Establishing himself as a good defender and a better shooter, Finley became a two-time All-Star and World Champ with San Antonio.  He was athletic young, but as his athleticism left him, he used his smarts to help him average 15.7 pts, 4.4 reb & 2.9 ast in 1100 games.  He ranks 19th in career 3 pt shots made & 75 in points scored.  Finley was a factor in every facet of the game, which is why he ranks #6.
5.  "With the 40th pick in the 2005 NBA Draft, the Golden State Warriors select…Monta Ellis"
        -I almost put this kid higher.  He may not ever win a ring, he may not ever win an MVP, but this kid is one of the most talented players in the NBA & nobody talks about him.  He can play a little D, but he can score in bunches.  Russell Westbrook gets a lot of press, but Monta Ellis is the exact same type of player.  He might not be as athletic, but he can shoot better.  After becoming the '07 Most Improved Player, he has been in the top 10 in scoring average twice.  Throughout his short career, he is averaging 19.5 pts, 3.7 reb & 4.5 ast.  If Monta ever got on a big name team, he would start getting talked about more than some of the over-hyped athletes.  There are plenty of execs that wish they had him to light up their scoreboards & I think he's one of the biggest steals of all-time.
4.  "With the 24th pick in the 1992 NBA Draft, the Golden State Warriors select…Latrell Sprewell"
        -One thing this guy wasn't was a choke artist..well, you know what I mean.  Having come out of  Alabama as an extremely underrated player, Don Nelson saw Sprewell as the heir apparent to Mitch Richmond & "Run TMC" in Oakland at 2 guard spot.  What Nelson didn't expect to get was a player who could lock down on D as well as any player he had under his regime.  He was such a good defender that MJ mentioned Sprewell as one of the best defenders he had faced off against.  Between Sprewell, Tim Hardaway, Chris Mullin & later addition Chris Webber, Golden St looked like they could become a powerhouse in the West.  When Hardaway took his talents to South Beach & Webber had a reunion in Washington with former Fab 5 star Juwan Howard, things spiraled downward by the Bay. Latrell went to play in New York alongside Allan Houston.  They made a great team, Houston was the better shooter, while Sprewell was the better all-around scorer & defender.  The Knicks met the Spurs in the strike-shortened '99 Finals.  After that, he spent time in Minnesota playing with Kevin Garnett & Sam Cassell.  All said & done, the four time All-Star made All-NBA 1st team, All-NBA Defensive 2nd team, is ranked #50 all-time in steals, 86th in points and 61st in 3 pt shots made.  His career averages are 18.3 pts (19.7 in playoffs), 4.1 reb (4.3 in playoffs) & 4 ast (3.4 in playoffs).  Not bad for a guy that didn't hardly play ball in high school.
3.  "With the 21st pick in the 2006 NBA Draft, the Phoenix Suns select…Rajon Rondo"
        – Phoenix ?  That's right, the driving force behind Boston Celtics for the last five years was drafted by the Suns…can you imagine that backcourt : Rondo & Nash?  The three time All-Star is already putting his mark on career triple-doubles and is one of the craftiest, most intelligent basketball players every time he steps onto the court.  If Rondo had a better outside shot, this guy would already be considered one of the top 5 PGs of all-time.  As of right now, he's one of the three best PGs in the league today.  He was on the All-Rookie 2nd team, All-NBA 3rd team, All Defensive 2nd team twice & All Defensive 1st team twice.  He averages 10.8 pts (14.5 in playoffs), 4.4 reb (6 in playoffs), & 8.1 ast (9.2 in playoffs).  As one of the grittiest, toughest and smartest players in the game, he was an absolute steal at pick 21.
2.  "With the 30th pick in the 2001 NBA Draft, the Golden State Warriors select…Gilbert Arenas"
        -You're probably thinking that I have a love affair with the Golden State Warriors, by now…I don't, but I sure do like the way they pick late.  And even though this three time All-Star never shined bright in Oakland, he sure did in D.C.  When he was on his game, he was one of the toughest players to defend.  Agent 0 could shoot from deep, play the pick & roll well, hit the mid-range jumper or get to the rack.  He was All-NBA 2nd team, All-NBA 3rd team twice, Most Improved player his second year in the league, top 5 in points three times, scoring champ in '05/'06 with an average of 34 p.p.g.  He currently ranks 54th in 3 pt shots made & 46th in career p.p.g. with an average of 20.7.  His production has gone down over the last three years.  If he could get a starting gig, I think you could still see that old gleam in his game once again.
1.  "With the 28th pick in the 2001 NBA Draft, the San Antonio Spurs select…Tony Parker"
        -How a guy this good was picked this low in the Draft is beyond me…but that's kind of the way his career has gone.  The four time All-Star is never in the discussion of the top 5 PGs & is usually forgotten when talking about the top 10.  Critics said that he couldn't shoot well from the outside, so he improved.  Critics said that he couldn't score, so he mastered the "teardrop" and can light up the mid-range jumper.  He was on the All-Rookie 1st team, All-NBA 2nd team & All-NBA 3rd team.  He is a three-time World Champ, winning the Finals MVP Award in '07.  He has averaged 16.8 pts (18.9 in playoffs), 3.0 reb (3.2 in playoffs) & 5.9 ast (5.1 in playoffs).  He currently ranks 62nd in career assists.  For a guy that has accomplished this much & works harder to get better, Tony Parker is the biggest steal in the last 20 years.
Honorable Mentions:
-1997: Bobby Jackson (#23)
-1998: Al Harrington (#25)
-2004: Jameer Nelson (#20)
-2006: Kyle Lowry (#24)
-2007: Jared Dudley (#22)
-2007: Wilson Chandler (#23)
-2007: Glen Davis (#35)
-2008: Serge Ibaka (#24)
-2008: George Hill (#26)
-2009: Darren Collison (#21)
I hoped you enjoyed the list.  I'll bring the top 15 "diamonds in the rough"…right after my Mock Draft.
Don't forget to look back at my list of the
biggest busts
in the past 20 years!