If there's a memorable tale to be told at the end of this English Premier League season, one would have to agree that it would be the story of Liverpool's remarkable revival under the management of Liverpool legend, Kenny Dalglish.
After the sacking of Roy Hodgson in early January, Dalglish was immediately appointed as the new manager on a temporary basis after a poor run of form from the Merseysiders that saw them sitting just 4 points above the relegation zone. Just a few days after Dalglish was appointed, he returned to Old Trafford to see his side lose 1-0 to bitter rivals Manchester United in the FA Cup – an expected result. But, in the process, Dalglish lost captain Steven Gerrard to a red card and a 3 game suspension.
Liverpool then later made the short trip to Blackpool without Gerrard and made a dream start, with Fernando Torres scoring within a few minutes of the kick-off. An excited Kenny expressed pure emotion, a thing that Roy Hodgson, Rafa Benitez and most other Premier League managers struggle with. But, Blackpool captain and Liverpool transfer target, Charlie Adam spoilt the party and played an instrumental part in Blackpool's revival to earn them a morale-boosting 2-1 win. Just a few days later, Liverpool drew with Everton in the Merseyside derby at Anfield 2-2.
Lacking morale, The Reds went back to Melwood and worked hard with Kenny and his newly appointed first team coach, Steve Clarke to later earn a 3-0 win over Wolverhampton – with Raul Meireles and Fernando Torres both playing starring roles.
On a high, Liverpool and Dalglish went on to post a 1-0 win over Fulham at Anfield thanks to a mix up in the Cottager's defence and a subsequent own goal from Pantsil.
The Reds went on to post dramatic wins against Stoke City and Chelsea to sit 6th in the Premier League, just 6 points below fouth-placed Chelsea. In the transfer market, The Reds completed the transactions of Andy Carroll and Luis Suarez, two of the best strikers in the world but controversially sold star striker, Fernando Torres. But let's not talk about that.
Anyway, here's why Kenny Dalglish should be hired full-time. And just a message for Kenny, I'm more than happy for you to use this as your resume.
Support From The Fans
For decades, the Scot has been labelled "King Kenny" by all Kopites around the world and rest assured, you don't get labelled "the King" from nothing.
Kenny has been apart of the Liverpool family ever since 1977, when Bob Paisley bought him from Celtic to replace Kevin Keegan. But, my goodness, he's been more than a replacement.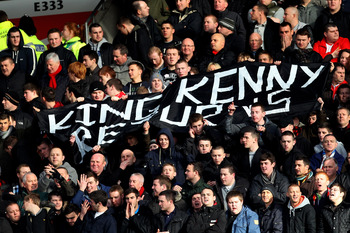 When Dalglish left Liverpool in 1991 he left with: 515 appearances, 172 goals, 307 as manager, 8 League Championships, 2 FA Cup wins, 3 European Cup wins, 4 League Cup wins, 1 European Super Cup win, and 5 Charity Shield wins. He also won a Football Writers` Footballer of the Year award, a PFA player of the year award, and three Manager of the Year awards. Honors that have earned him respect from Liverpool fans and footballing neutrals all around the world.
But more to the point, fans hold Dalglish in such high regard that they will never turn on him, like they did with Roy Hodgson – even to the point where there were thousands of empty seats for home
matches in the final games of Hodgson's reign. And no, I'm certainly not claiming that no fan will ever criticize Dalglish.
Here's a few words from a Liverpool fan in Lebanon:
Kenny is not like any other coach I've ever seen sitting on the side of the pitch in his silk suit, staring at the players with a dull and bland face, chewing gum in the most obnoxious way there is, having the same reaction to everything going on in the match, or blasting out with anger and rage.
Kenny reminds me of a kid, going with his dad to watch his first LFC match at Anfield. The kid sits there gazing at every move, not blinking so he wouldn't miss out on any pass, his heart beats fast with every Liverpool attack, feels so relieved after the Red's goalkeeper saves a definite goal, and loses his mind after an LFC goal. You can see innocence, passion, love, and commitment in the kid's eyes. He can't think of a place more secure than Anfield, he can't think of a view more overwhelming than the Kop, and he can't think of anyone he loves more than the Reds. This is our King Kenny, every match is a first for him. You can see love and thrill in his eyes, and you can read the match off his face. Seeing Kenny happy gives me a feeling of relief… Yes, everything is going to be fine.
Passion For The Club
Unlike many managers around the vast footballing world, Dalglish has a real passion and emotion for the clubs he manages. Take Roy Hodgson for example, the Englishman had his head in his hands in any situation the Reds were in; whether they were 2-0 up against Chelsea or losing to Wolverhampton 1-0.
But Dalglish is always standing up; shouting instructions, feeding his players encouragement and celebrating extravagantly when we score. And for me, and most other Liverpool fans, thats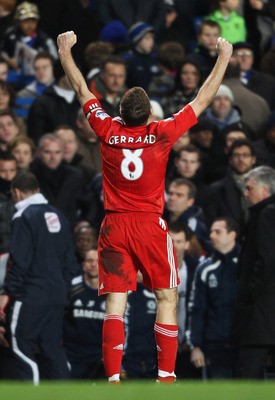 what makes the difference. And moreover, Kenny knows what the club is about.
Take his handling of the Torres transfer by example. What was Kenny's response to all the intense speculation? "At the end of the day, no person is bigger than the club." There's only one word for that.
Class.
Proven Track Record
There's no doubting King Kenny's ability to turn around a club's fortunes and rest assured, there are plenty of facts to back it up.
After an exceptional reign as manager at Liverpool, Kenny led Second Division Blackburn Rovers into the Premier League by beating Leicester City 1–0 in the Second Division Play-off final at Wembley. The next season, Dalglish helped Blackburn to fourth place, a remarkable feat that turned a lot of heads. The club finished two positions higher the following season, as runners-up to Manchester United. And finally, the next season Dalglish helped Blackburn to their first ever Premier League title against all the odds.
Maybe, just maybe, King Kenny can do the same with the Reds.
For more football news from around the world visit mitchcray.wordpress.com