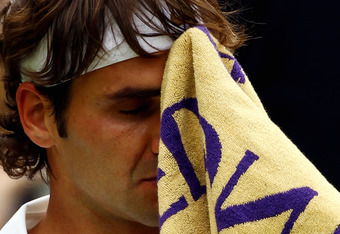 To say that Roger Federer loves the yearly Wimbledon tournament would be an understatement.
He has made his career—his LEGEND—at Wimbledon.  The first Grand Slam Tournament victory in Roger's career was at 2003 at the event, and Federer has won six of the past seven tournaments at Wimbledon, losing in the finals in 2008—the only time he didn't win the tournament outright out of all the years he has competed.
Imagine my shock this morning when I turned on the television to see that Roger Federer was LOSING his first round match…to an unranked opponent (Alejandro Falla of Colombia)!
**adsense_4block**
Disclaimer:  I'm not a Roger Federer fan.
Not only do I typically root for the underdog in contests where I don't have a historic favorite, but something about Roger Federer rubs me the wrong way.  Maybe it's the fact that he's such a pompous pretty boy that he quickly adorns himself with a white sweater vest (and sometimes a matching white blazer jacket) in early summer before leaving the court after a victory.
Whether he does it out of respect, for reasons of fashion, or any other reason, to me it sends the message that his opponent barely made him break a sweat.
I was pleased when I found Federer in the midst of probable defeat this morning to the biggest underdog of the tournament.
How bad was it?
Federer had lost the first two sets, and had he lost the third, the match would've been over and he would've been eliminated from Wimbledon.  In the third set, Federer overcame a break point (an opportunity where Alejandro Falla could win a game in which Federer was serving).
It would have given Falla the chance to serve the 10th game in the set with the opportunity to win the tournament.  That would have been a HUGE opportunity for Alejandro Falla that Federer would've likely not overcome.
[picappgallerysingle id="8917826″]
To put it in perspective, Roger Federer hasn't been eliminated from a Grand Slam Tournament in the first round since the French Open of 2003.
Falla knew the opportunity was at hand.
"I had Federer against the ropes," he was quoted as saying after the nearly historic match was over.
Instead of succumbing in that 10th game, Federer came back to win not only that game, but a majority of the games over the course of the next two sets, winning the final set without losing a single game to Falla, 6-0.
Perhaps Federer had become too cool about his odds of advancing easily past Falla, a mistake he'd be foolish to repeat.
From the sound of his post-match interview, he won't take his next opponent lightly:
"You definitely feel, you know, uncomfortable, because if you're used to being down the whole time, your whole life, it's something that's kind of normal. For me, it's not normal to be down two-sets-to-love, especially at Wimbledon and early on in Grand Slams. It's something I'm not quite used to."
It's not likely that there will be another match in this year's Wimbledon to provide this much excitement until possibly the finals, but it certainly gave this year's event quite a jump-start.
Anyone who failed to set their DVR for today's Federer match probably quickly rectified that for future rounds when they heard about the nearly-historic match they didn't record.