That's right, more gifts for your geek guy or girl to put a smile on their faces brought to you by yours truly…
Custom Color Water Friendly Chainmail Bikini Top

This handmade, swim-friendly, waterproof chainmail bikini top is made from anodized aluminum and latex-free EPDM rubber. The rubber gives just the right amount of stretch to gently cup around your curves, accentuating them in just the right way, the anodized rings providing a colorful and eye-catching sparkle.
These tops are extremely comfortable and light, weighing only a half pound, and tie in the back and at the neck with a wide satin ribbon for the ultimate in comfort and adjustability. These bikini tops are completely street-legal; nothing can be seen through the weave, and are completely waterproof/swim friendly.
This listing is for a custom top made in matte finish machine cut anodized aluminum and black or white EPDM rubber, made to fit your measurements in any size range between standard US bra sizes 32A and 38D. To ensure the best fit via the internet and since every single person is different, a few recent pictures will be very helpful.
If you would require a top larger than this, please convo and we can work out the details. As this listing is for a custom piece, please allow 6-8 weeks for creation and delivery – Although I'll do my best to get it out as soon as possible.
Available metal ring colors are: Red, Orange, Gold, Green, Blue, Purple, Magenta, Pink, Black, Silver, and Brown, in any combination. You can find this and more at http://www.etsy.com/shop/UtopiaArmoury?ref=seller_info
Breaking Bad Candy
The new season of Breaking Bad has finally started, and it is awesome! Here is some Heisenberg Blue Glass Rock Candy that "would make Pinkman with envy… bitch"!
"This is a novelty item: cotton candy flavored blue rock candy in a biodegradable 4″ X 3″ bag. Each Baggie contains over 2oz of fine product and will be sent to you in a sticker sealed brown paper bag along with two Official Los Pulgas Hermanos logo stickers inside!"
It's $8 for a pack of two. http://www.etsy.com/shop/LosPulgasHermanos?ref=seller_info
Hidden Bookcase
This hidden bookcase turned your home into a stealthy secret lair. The hidden bookcase folds in half by sliding on steel tracks embedded in the floor and built into the header panel, both of which are completely hidden when the bookcase is in its normal unfolded position. Fill the thing up with books, and nobody will know this secret book. It is available now for $3000. http://www.opulentitems.com/hidden-bookcase.html
The Mixtape Table
Hand crafted by Jeff Skierka, the Mixtape table is a 12:1 scale replica of the real thing. The original prototype pictured here has been in the works for over five years and is made from reclaimed maple and walnut wood with a plexiglass top.
47.25″ x 30″ x 5″ with a 3/8″ plexi top. Cool design. http://www.jeffskierkadesigns.com/portfolio-table.html#
The JoeyBra
The JoeyBra is a bra with discreet side pockets, so you can store phones and credit cards on the bra. Created by two students from the University of Washington. The project which is featured on Kickstarter currently, they want to bring this product to market.
"Our unique product allows women to finally ditch the purse and opt for freedom. JoeyBra, a sexy pocketed bra, offers two discreet pockets on the sides of the bra. While maintaining a low-profile and without changing the shape or fit of the bra, our pockets can carry a phone, ID & credit card, and a key.
Being the first truly, sexy pocketed bra, Joeybra's design features a pushup bra, a touch of lace, and high quality craftsmanship that will allow you to feel sexy. Our current style works as both a normal bra as well as a strapless or convertible bra. " http://www.joeybra.com/
Galaxy Blue Dress

"Forget the world…you mean the galaxy to me." Cool?
The Galaxy Blue Dress is on sale at Black Milk for AU$99 ($106.) http://www.blackmilkclothing.com/collections/dresses/products/galaxy-blue-dress
The Hairy Collection
The Hairy Collection from Nutty Tarts, includes Hairy Panties, Hairy Leggings, Hairy Undershirt, Bad Face Day paper bag…
Cool! http://streetanatomy.com/2010/06/07/the-hairy-collection/
Poison Candy Latex
Usually, Lt. Uhura and Seven of Nine are the only people allowed to wear tight outfits when it comes to Star Trek, but one designer is working to change that with a line of Trek-themed latex. The new gear is headed to Montreal Comic Con this fall, and we've got a sneak peek. These sexy geek threads come courtesy of Poison Candy Latex, who'll be launching the line in Montreal Sept. 12-14. As you can see, they owe much more to The Next Generation than The Original Series, but you still have the option of going for the skirt or the pants.
And there you have it. Another set of gifts for your geeks that will put a smile on their face and a little pep in their hard drives. Until next time.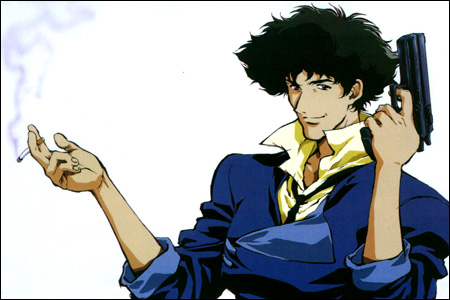 See You Later Speace Cowboy…